PROFESSIONALS
PROFESIONALES
PROFESSIONNELS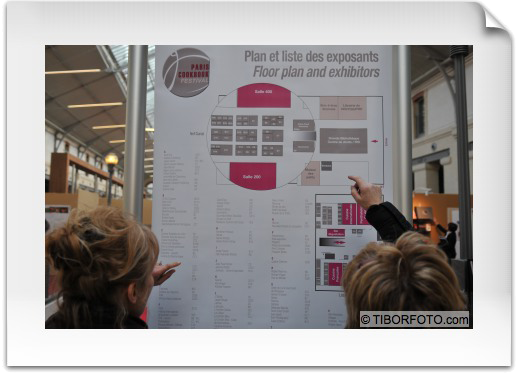 Agents
Australia
Margaret Kennedy Agency, Brisbane
USA
Bruce Harris
Lisa Ekus
Bookstores
Canada
Barbara Jo´s – Books to Cooks – VIP Pro
France
Librairie Ancienne Millescamps – Stand
Librairie Le Merle Moqueur – Le 104
Le Festin de Babette – Livres rares – Stand
Italy
Bibliotheca Culinaria – Stand
Hoepli – VIP Pro
Spain
De Re Coquinaria – Jose Maria Pisa – Stand 
Switzerland
Gastéréa
Charity Cookbooks
Bhutan
Bhutan Foundation – Vip Pro
Colombia
Transformemos – Stand
France
A.N.D.E.S – Association des Epiceries Solidaires – Denis Marot – Stand
Friends International – Stand
Club du Temps Gourmand – Marc Combier – Stand
Mexico
Fundación Grupo México – Vip Pro
New Zealand
Orphans Aid International – Vip Pro
Singapore
Singapore Airlines – Vip Pro
Trinidad – Tobago
Syrian Lebanese Women Association – Stand
USA
C-CAP – Richard Grausman – Rights Table
Oldways Preservations Trust – Sara Baer-Sinnott – Rights Table
Cheese
Benin
Fromage Peuhl – Béatrice Lalinon Gbado
Brazil
Jair Jorge Leandro
France
Véronique Chapacou
Sonia Ezgulian
Marie Fougère
Sweden
Pelle Agorelius, Husmansbord – Stand
Svensk Mjölk – Swedish Dairy Association, Joakim Larsson, Lina Sandvik
UK
Juliet Harbutt
Chefs
Argentina
Chakall
Australia
Sean Connolly
Austria
Wolfgang Sievers
Belgium
Claudia Allemeersch
Inge Van de Vyver
Bolivia
Lucy Avila A.
Canada
Bob Blumer
Suman Roy
China
Du Guang Bei
(Chakall)
(James McIntosh)
Cuba
Frank Rodriguez Pino
Denmark
Paul Cunningham
Nikolaj Løngreen
Camilla Plum
Finland
Sara La Fountain
Ahmed Ladarsi
France
Alain Alexanian
Yvan Cadiou
Yves Camdeborde
Véronique Chapacou
Christopher Coutanceau
Alain Dutournier
Sonia Ezgulian
Marie Fougère
Jacques Le Divellec
Christophe Felder
Katherine Kodorowski
José Marechal
Laurent Mariotte
Sophie Menut
Eric Roux
Thierry Verrat
Germany
Chakall
Murielle Rousseau
Kathrin Plotke
Greece
Vefa Alexiadou
Argiro Barbarigou
Ft Bletsas
Hungary
Viktor Segal
Iceland
Yesmine Olsson
Völundar Völundarsson
India
Monish Gujral
Asha Khatau
Italy
Benedetto D´Epiro
Lebanon
Chef Ramzi
Lathika George
Sandra Salloum
Luxemburg
Lea Linster
New Zealand
Julie Biuso
Robert Oliver
Poland
Wojciech Modest Amaro
Portugal
Chakall
Fialho
Bernardo Andrade Rodríguez, 2780 Taberna
Spain
Andrés Madrigal
Santi Santamaría
Sweden
Marco Baudone
Stefano Catenacci
Görgen Tidén
Switzerland
Swiss Pastry Design – Rolf Mürner
Tunisia           
Ahmed Ladarsi
Zouhaïr Ben Jemaâ
UK
James McIntosh
Pascal Aussignac
USA
Maxime Bilet
Virginia Willis
Children – Enfants
Denmark
Nikolaj Løngreen
India
Dr. Amitabh Pandit – Montessori School, Lucknow
Lebanon
Chef Ramzi
Cooking Schools
France
Le Cordon Bleu®
Lycée Hôtelier Guyancourt
On Rue Tatin
Italy
Mamma Agata – The Hidden Tresure
Culinary History and Research – Histoire Culinaire
Canada
Suman Roy, From Pemmican to Poutine
Costa Rica
Leila Garro, Saberes y Sabores de Boruca
France
Henri-Pierre Millescamps
Ecomusée de la Truffe, Sorges
Bibliothèques Gourmandes
Germany
Sibel Cuniman Pinto, Sephardic Cuisine in Turkey
Malaysia
Chef Wan
Kulit Manis, A Taste of Terengganu's Heritage
Morocco
Fatema Hal
Switzerland
Fondation B.IN.G. – Marta Lenzi
UK
Lewis Esson, How the British Fell in Love With Food
Claudia Roden
Jared Brown – World history of wine and spirits
USA    
Jan Longone
Venezuela
Recetas Olvidadas, Gamal El Fakih Rodríguez
Digital
Austria
The Foodink
France
QooQ – Unowhy?
UK
Whisk – James McIntosh
Concentric Dots – Steve Bateman
Health
Austria
Dr. Chritine Saahs
Mrs. Edith Kubiena
France
Nutrelan – Conner Middelmann-Whitney
Vins et Santé – Dubos
Marie De Mazet – Plantes Medicinales – Tisanes
India
Dr. Amitabh Panda – Orthomolecular nutritionist
Netherlands
Dr. Frank van Berkum, Gezond Slank met Dr. Frank
South Africa
Food Basics - Eating for Sustained Energy – Mrs. Gabi and Mr. Kanla Steenkamp
Sweden
Professor Mai-Lis Hellénius, Expert in Mediterranean diet, Karolinska Institutet (which proposes laureates for Nobel Prize in Medicine)
Indigenous Foods
Bhutan 
Erik Nagamatsu, Foods of the Kingdom of Bhutan
Costa Rica
Kus Kura Indians
Leila Garro Valverde
Malaysia
Kulit Manis a Taste of Terengganu's Heritage – Puan Rosita Bt Abdullah
South Pacific
Me'a Kai – Chef Robert Oliver
Fiji, Samoa, Tonga, Vanuatu, Cook Islands, Tahiti
USA
The Mitsitam Café, Smithsonian National Museum of the American Indian – Richard Hetzler
Venezuela
Andes – Las Recetas Olvidadas – Gamal El Fakih Rodríguez
Institutions
China 
WFWF-TV – World Festival of Food and Wine Television – Beijing
Wine and Health Symposium, Beijing
France
Bibliothèques Gourmandes
Mission Francaise du Patrimoine et des Cultures Alimentaires, Directeur Pierre Sanner
Ecomusée de la Truffe, Sorges, President Juan Marie Duprat
Festival de la Photo Culinaire, Paris, President Jean Pierre Stefan
Salon International du Livre Gourmand, Perigueux
Festival International de la Bande Dessinée Angouleme
Mexico
Fundación Grupo México, Paola Rión
Nacionalismo Gastronómico, Eduardo Plascencia
USA
C-CAP – Careers for Culinary Arts Professional, Richard Grausman, President
Oldways Preservations Trust, Sara Baer-Sinnott, President
Italy
Brazil
Bistro Trattoria, Melhoramentos, Breno Lerner  
Italy
Bibliotheca Culinaria, Publisher Liz Marcucci, Gianpiero Zazzera
Edizioni Estemporanee
Fidare
Graphicom, Antonio Zanella
Hoepli Spa, Daniela Grazi
Il Leone Verde, Anita Molino
Reed Gourmet, Veronica Pasqualetto
Gremese Publishers
Trenta Editor, Barbara Carbone
Mamma Agata
Benedetto D'Epiro
Marco Lombardi, Cinegustologia
Sweden
Marco Baudone
Stefano Catenacci
Switzerland
Carlo Bernasconi, Author, La Cucina Verde, Italian Restaurant in Zürich
Turkey
Italian Food Combinations, Binur Akhun Onen and others
Inkilap Kitabevi Publishers
USA
Robert Camuto, Author, Italian Wine, Palmento
Jewish Food Culture
Germany
The Evolution of the Sephardic, Cuisine in Turkey – Five Centuries of Survival, Sibel Cuniman Pinto
UK
Claudia Roden
Four Meals, a novel, Meir Shalev
USA
Quiches, Kugels, and Couscous my search for Jewish Cooking in France, Joan Nathan
Lunch in Paris, Elisabeth Bard
Marlena Spieler
Barbara Harshav, Translator, Yale University
Music and Dance
Iceland / India
Yesmine Olsson – Indian Dancing
Malaysia
Malaysian Tourism Dancers
Partners – Partenariats
World Association of Food Television Producers
Cuisine TV
Vivolta TV
Elle à Table
Marmiton.org
AuFeminin.com
Rosières
Mastrad
Eaux de Saint Géron
Association du Foie Gras Perigord
Ecomusée de la Truffe du Perigord – Sorges
Rungis Marche International
Repaire de Bacchus
Photo
Austria
Ferdinand Neumüller
Fiji
Shiri Ram
France
Denis Nidos
Etienne Heimermann – Le Fotographe
Festival de la Photo Culinaire, Paris
Marc Combier – Club du Temp Gourmand
Pierré Pelletier
Isabelle Rozenbaum
Italy
Panpetato – Marco Salzotto
Germany
Jorg Lehmann
Max Jurish
Norway
Nancy Bundt
Switzerland
Foto Plus Schweiz
Trnka Foto and Stills
Sweden
Bruno Ehrs
Pepe Nilsson 
Roland Persson
Tiborfoto – Tibor Barany
UK
Jean Cazals
PR Agencies
France
L'Arrière Cuisine – Wally Montais
Cook and Com – Marie Sauce
Germany
Buch Contact – Murielle Rousseau
Sweden
Urban 256 – Urban Svensson
Printers
Italy
Graphicom
Slovenia
Gorenjski Tisk
Spain
Gráfics Vernetta
Sweden
Fälth & Hässler
Publishers
Argentina
Planeta Argentina
Australia
Murdoch Books
Red Candy
Wet Season Press
Austria
D+R
Leopold Stocker Verlag
Verlag Anton Pustet Vinothek
Verlag Johannes Heyn
Bangladesh
Impress Group
Belgium
Lannoo
Linkeroever
Standard Uitgevers
Tectum Publishers
Brazil
Bistros.com.br
Boccato
Camara Brasileira do Livro
Melhoramentos
Senac
Cambodia
White Tara
Canada
Robert Rose
Whitecap Books
Chile
Gourmet Patagonia
China
China Light Industry Press
East Eat – Culinary Artist
Food Cultural Books of China
Oriental Press
People's Publishing House
Qingdao Publishing
Wine in China – China Agricultural University, Beijing
Colombia
MNR Comunicaciones
Denmark
Kle-Art
France
Agnes Viénot
Alain Ducasse – LEC
Chemin Lisant
Editions de l'Epure
Féret
Flammarion
Fleurus
Glénat
Gramond
Groupe Le Duff
Hachette Pratique
Impla
Jean Paul Rocher
Lagon Rouge – Bordeaux
Le Cordon Bleu®
Liber Mirabilis - Carcassonne
Jérome Villette
Mama Josefa
Mango Art de Vivre
Marabout
Menu – Fretin
Montbel
QooQ – Unowhy?
Scribo
Sud Ouest
Trop Mad – Nathalie Beauvais
Utovie
Vins et Santé – Dubos
Germany
99 pages
Christian Verlag
Dorling Kindersley Deutschland
Gerstenberg Verlag
Heel
Kornmayer
Papyrus Verlag
Port Culinaire
Sigloch
Stories and Friends
Umschau
Ghana
Adaex, Accra
Greece
Alba Editions
Liberis
Malliaris Paedia
Vefa Alexiadou
Hungary
Boook Publishing
India
Orient Enterprises
Popular Prakashan
Italy
Bibliotheca Culinaria
Fidare
Gremese
Hoepli
Il Leone Verde, Anita Molino
Reed Gourmet
Trenta Editore
Japan
Super Editions
Tsukijio
Lebanon
Chef Ramzi
Luxemburg
Lea Linster
Malaysia
My Viscom - Terengganu
Netherlands
Dutch Media / Carrera Publishers
Karakter
Peru
Movimiento Manuela Ramos
Universidad San Martín de Porres
Planeta Peru
Portugal
Bertrand Editora
Euroimpala
Russia
Arkaim
Chernov
Eksmo
Spain
Akal
Dual Servicios Corporativos
Gastronomia Activa
Maillard Innovacion
Sweden
Bonnier Fakta
ICA / Forma Publishing Group Agency
Switzerland
Arcadian Lifestyle Publishing
Slatkine
Turkey
Inkilap Kitabevi
Metro Cultural Publications
UK
Absolute Press
BBC Books
Dorling Kindersley
Easy Cook
Ebury – Random House UK
Grub Street
Papadakis Publishers
Phaidon
Simon and Schuster UK
Virgin Books
USA
Stewart, Tabori, Chang
The Cooking Lab
University of California Press
Wine Appreciation Guild
Street Food
Chef Wan – Malaysia Street Food
Chakall and his Moto Kitchen
Yvan Cadiou – Cuisine Populaire
Spain – Barquillero Galicia Martín Álvarez
Sustainable – Durable
Cuba
Proyecto Comunitario Conservación de Alimentos – Jose Antonio Lama
Television – Filming
Austria
ORF
Australia
Benchmark Films
China
China Food Network
France
Cuisine TV
Lebanon
Chef Ramzi
Malaysia
Chef Wan
New Zealand
Zoomslide Productions
Wine
Argentina
Baco Club, Alfredo Terzano
Karla Johan Lorenzo, Sommelier
Belgium
Eric Boschman, Author "Vins de Belgique"
Canada
Pascal Patron, Guides des vins bio
Jacques Orhon
China
Wine in China Magazine, Mrs Ma Zhen, Editor in Chief
Oriental Press, Publisher
China Light Industry Press
Food Cultural Books of China, Zhang Ren Qing
Cyprus
Yiannos Constantinou
France
Association des Grands Crus Classes 1833 – Sylvain Boivert
Editions Féret
Vins et Santé – Dubos
Utovie
Hachette Pratique
Jean Michel Deluc, Le Cordon Bleu®
Michel Chasseuil
Pierre Le Hond
Gilles du Pontavice, Blog Vinorum Codex
Wine Bankers, Jean Luc Coupet
Jean Charles Chapuzet, Author
Italy
Edizioni Estemporanee – Champagne Guide
Spain
Martín Berasategui System Bottle (Oscar de l'Emballage 2010)
Sweden
Håkan Larsson, Allt om Vin
UK
Jared Brown, Spirits
USA
Albert Schmid, Kentucky Bourbon
University of California Press
Wine Appreciation Guild
Robert Camuto
Women
Canada
Breast Friends
France
Women and Wines of the World, L'Arrière-Cuisine
Peru
Movimiento Manuela Ramos
Trinidad – Tobago
Syrian Lebanese Women Association
USA
Jan Longone – Cookbooks and the Empowerment of Women
Africa
Benin
Editions Ruisseaux D'Afrique – Beatrice Lalinon Gbado
Ghana
Adaex Publishers, Accra
Morocco
Fatema Hal
South Africa
Food Basic – Gabi Steenkamp
Tunisia
Zouhaïr Ben Jemaâ, Chef, Author
Ahmed Ladarsi, Chef, Finland
Asia
Bangladesh
Impress Group, Abdul Muqeen Majun Dar, Publisher of Keka Ferdausi, No 1 Television Celebrity Chef
Bhutan
Bhutan Foundation – Ambassador Sonam Tubdon Rabgye
Foods of Bhutan – Erik Nagamatsu
Cambodia
Friends International
White Tara, Kanika Linden
China
East Eat, Chefs Magazine, Owner Liu Guang Wei 
Development Center of Oriental Gourmet, Cooking School, Jinan, Chairman Mrs. Hao Dungfia
Master Chef Du Guang Bei, Beijing
China Light Industry Press
Qingdao Press
Oriental Press
WFWF TV – World Festival of Wine and Food Television –  Beijing October 2011 –  Edouard Cointreau, President
Food Cultural Books of China, Zhang Ren Qing
Wine and Health Symposium – Beijing May 2011
Wine in China Magazine, Mrs. Ma Zhen, Editor in Chief
India
Rashmi Uday Singh, Author, Journalist
Lathika George, Suriani Kitchen, Food of the Syrian Minority in India
Asha Khatau, Bestselling Author
Dr. Amitabh Panda – Orthomolecular nutritionist, Health Educator, Lucknow Montessori School
Monish Gujral, Motimahal Restaurants, Author
Viji Varadarajan, Sophie Grot – Saveurs et traditions du sud de l'Inde –  en français
Japan
Tsukiji, Fish market – Atsushi Koseki, Yuko Koseki
Supereditions, Publisher – Saito, Desobeaux
Malaysia
Kulit Manis Trengannu food Heritage, Madame To'Puan Rosita Abdullah and her son Tengku Zainal Abidia
Dato Chef Wan
Sikkim
Jyori Prakash Tamang, Himalayan Fermented Foods
Singapore
Singapore Airlines Cookbook – Above and Beyond – Mrs. Betty Young
Pacific
Australia
Benchmark Films – Paul Sullivan, Television
Margaret Kennedy Literary Agency
Murdoch Books
Sean Connolly, Television Celebrity Chef
Red Candy, Publisher
Wet Seasons Press, Clare Richards
Cook Islands
Cooks Islands Tourism Corporation, Carmel Beattie, Karla Eggelton
Fiji
Shiri Ram, Photographer
New Zealand
Chef Robert Oliver, Me'a Kai
Julie Biuso, Celebrity Chef, Author
Orphans Aid International
Zoomslide Productions, Heather Lee, Television
Samoa
Dr. Tracy Berno, Department of Tourism and Hospitality
Latin America
Argentina
Baco Wine Club
Karla Johan Lorenzo, Sommelier, Wine, Mate
Bolivia
Lucky Avila A., Cochabamba, Author
Brazil
Bistro.com.br
Camara Brasileira do Livro
Melhoramentos – Breno Lerner, Publisher
Senac, Marcus Vinicius Alves, Publisher
Montjoli Queijos Especiais, Jair Jorge Leandro, Maitre Fromager
Fabiena Andrea Zelatti, Author
Chile
Gourmet Patagonia, Pablo Fantini
Colombia
Fundación Transformemos
MNR – Maria Lia Restreipo
Costa Rica
Leila Garro Valverde, Kus Kura Indians
Saberes y Sabores de Boruca
Cuba
Chef Francisco Rodríguez Pino
Jose Lama – TV, Conservación Alimentos
Mexico
Fundación Grupo México, Paola Rión
Nacionalismo Gastronomico, Eduardo Plasencia
Jose Ramon Castillo – Chocolate Chef
Peru
Universidad San Martín de Porres, Publisher
Decano Johan Leuridan Huys
Trinidad and Tobago
Syrian Lebanese Women's Association, Ah'Len Cookbook – Sandra Salloum
Venezuela
Gamal El Fakih Rodríguez – Las Recetas Olvidadas
Middle East
Chef Ramzi, Lebanon, Author, Television, Publisher
Syrian Lebanese Women's Association of Trinidad and Tobago
Suriani Kitchen, The Syrian Minority in India, Lathika George